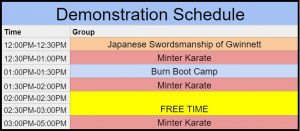 Back To School Summer Give Away!
Local small businesses are teaming up to give back to the Snellville community! Due to limited supplies, items will be given away on a first come, first serve basis. Raffle information at the bottom. Come by and take part in the fun!
What is happening?
Minter Karate and Japanese Swordsmanship of Gwinnett will be performing live demonstrations including fire breaks, self defense, and Swordsman techniques.
Celeb Styles will be offering FREE haircuts for students!
Burn Boot Camp will be offering FREE fitness class for students and parents!
All Pro Automotive will be providing information about their services!
SUMMER GIVEAWAY
FREE ITEMS (while supplies last)
SCHOOL SUPPLIES
HOT DOGS & POPCORN
HAIRCUTS
Where can I contact the sponsors?
Minter Karate – minterkarate.com
Celeb Styles – celebstylesbarbershop.com
Burn Boot Camp – burnbootcamp.com/locations/snellville-ga
Japanese Swordsmanship of Gwinnett – japaneseswordsmanship.com
All Pro Automotive – allproautomotivecenter.com
RAFFLE INFORMATION
We will be raffling off prizes every 30 minutes! Upon arrival, make sure you grab a raffle ticket to be eligible for the drawings. Karate instructors with Red tops will have raffle tickets.
Prizes
Free Classes
Karate Gear