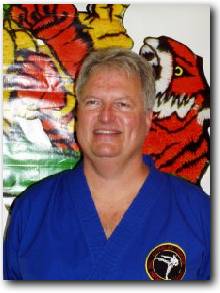 6th Dan Black Belt
Master Instructor
U.S.A. Martial Arts Hall of Fame Inductee - Martial Artist of the Year 2004
Head Instructor: Charles Minter TKD, Snellville Studio
Head Instructor: Rocksprings Elementary Location
Head Instructor: Bogan Park
2003 Tennessee AAU Individual Forms Champion
2004 Gwinnett County Parks and Recreation Instructor of the Year - North Area
Private Lesson Fee: $120 per hour
Master Charles Minter began his martial arts training in 1971. Mr. Minter became an instructor not long after this and opened his own school, which he has run successfully since 1979.
Having competed in many tournaments during his 30 years in the martial arts, Mr. Minter has acquired a lot of knowledge that enables him to better teach students who wish to compete as well. Mr. Minter continues to grow and gain competition experience; he competed in both the 2003 AAU National Championships and the 2003 Tennessee AAU State Qualifier in which he won a gold medal.
Competition, however, is only one aspect of the martial arts. While Mr. Minter emphasizes the importance of learning from the experience offered by competition, proficiency in self-defense and forms leads one to become a well-rounded martial artist.
Mr. Minter has taught thousands of men, women, and children over the years and continues to inspire and influence his students in a positive way.